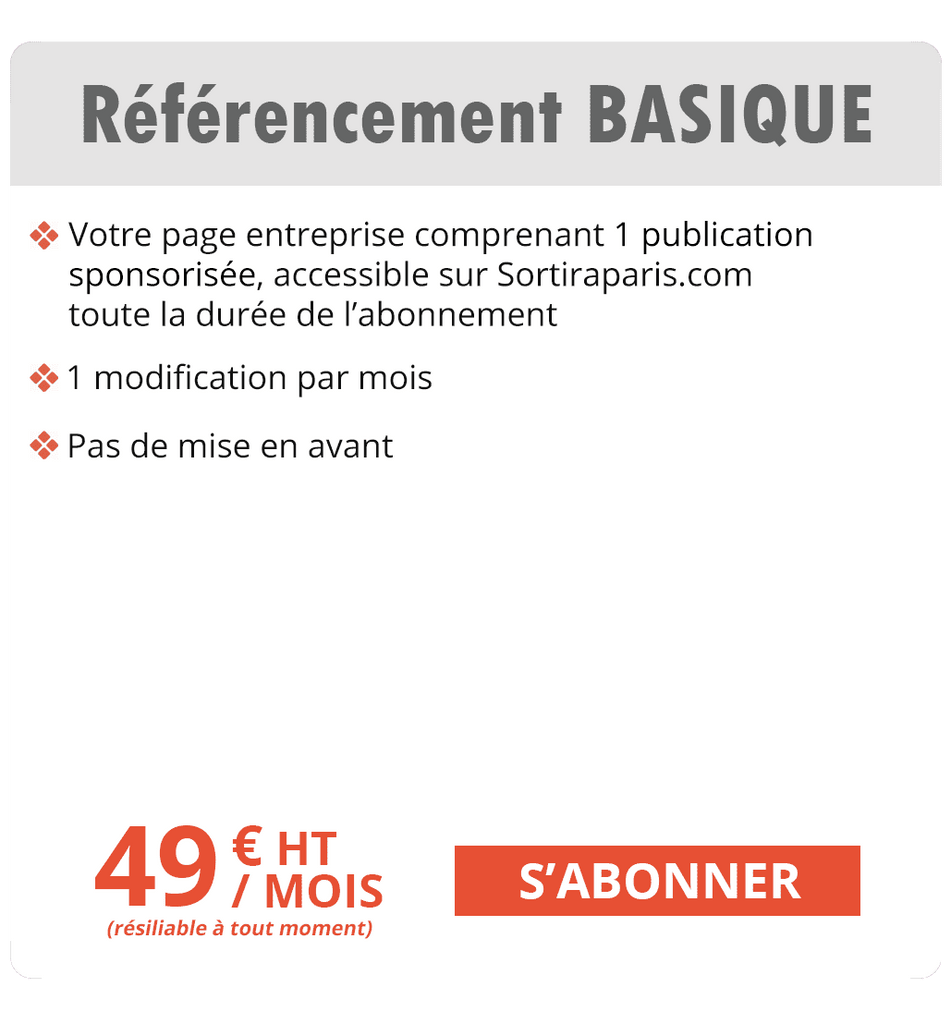 Your business page including 1 sponsored post, announced on SORTIRAPARIS.COM for the duration of the subscription
Free: advice and assistance to deliver the best message, with the help of our experts
New ! Translation for tourists of your sponsored publication in 8 languages:

English, German, Spanish, Italian, Portuguese, Chinese, Russian, Japanese

1 change per month
No highlighting
More information ? Contact us on promotion@sortiraparis.com
Why do 4,000 establishments, event organisers, agencies and communities publish on Sortiraparis?
With 10 million readers every month, Sortiraparis attracts more readers than all of the other professional and institutional regional guides combined
1st French regional guide in the Médiamétrie ranking, Sortiraparis is also the medium that generates the most visitors for our 4,000 customers
Subscription non-binding and cancellable at any time. It is therefore possible to subscribe for 1 month or a season
Targeting 100% compliant with data protection (GDPR), thanks to the editorial context of Sortiraparis allowing you to propose your publication according to the content read by our readers (thus respecting their privacy without the need to collect data)
An article published without SEO is only visible to those who already knew you (whereas here you gain new customers or visitors)
Thanks to the Sortiraparis referencing offer, on the contrary, you attract new customers because they discover your offer on the most read pages of your category.
These readers in the research phase inform their social group (family, friends, colleagues), and are therefore prescribers
Your subscription attracts different decision makers each month, allowing you to renew your visitor groups regularly
You have permanent control over your page, your changes are guaranteed within 2 working days (nofollow links, optimization assistance and advice included)
Très prometteur
Bonjour Sortir à Paris, je vous remercie pour ce retour complet et très encourageant !
Perfection
C'était parfait, un grand merci pour votre soutien !
Vous êtes incroyablement bons
Heureusement que vous existez ! Votre site Sortir A Paris est tellement connu que notre coffee shop dans le 9ème arrondissement est plein en permanence. Vous êtes vraiment bien plus efficace qu'une agence ! Merci à toute l'équipe Sortir A Paris pour cette superbe visibilité.
Objectif largement atteint
Sortir à Paris nous a amené un flux plus important de clients étrangers !
Grande satisfaction
Merci beaucoup c'est vraiment super, quel plaisir de travailler avec la team Sortir A Paris !