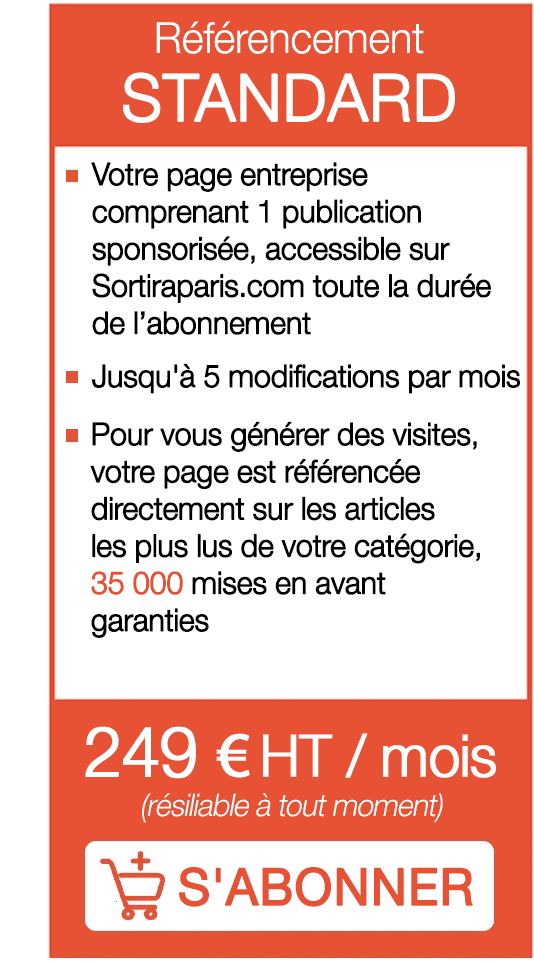 Your business page including 1 sponsored post, announced on SORTIRAPARIS.COM for the duration of the subscription
Free: advice and assistance to deliver the best message, with the help of our experts
New ! Translation for tourists of your sponsored publication in 8 languages:

English, German, Spanish, Italian, Portuguese, Chinese, Russian, Japanese

Up to 5 changes per month
To generate visits for you, your page is referenced directly on the most read articles in your category, 35 000 Guaranteed highlights 
Sortiraparis offers your establishment or event to potential future customers, because they are currently consulting either a competing outlet or one of our guides in your category
A link to your event will be added in these articles with the sponsored mention, our experts automatically analyze the best locations for you and send you a screenshot
STANDARD and PRO are the preferred listings of our 4000 customers
More information ? Contact us on the messaging system at the bottom right, or on promotion@sortiraparis.com
Superbe expérience, retombées quasi immédiates !
Une équipe ultra réactive et sympathique. Tout a été géré TRES VITE et avec une belle énergie ! Un grand merci à Raphael pour ses explications et sa disponibilité ! Quelques jours seulement après l'annonce une agence étrangère (de surcroit !) m'a sollicité pour une prestation privée, directement issue de la visibilité due à l'annonce ! Encore merci !
Un enchantement
Je vous remercie pour votre soutien, ravie de notre collaboration !
Quel bonheur de travailler avec Sortiraparis
Je tenais à vous montrer ma gratitude concernant votre aide. Je suis le plus heureux de voir que du public s'intéresse à nous. Je remercierai jamais assez l'équipe de Sortiraparis ! J'espère toujours collaborer avec vous dans le futur. Vous êtes désormais les anges gardiens du Cirque à l'Envers.
Très prometteur
Bonjour Sortir à Paris, je vous remercie pour ce retour complet et très encourageant !
Perfection
C'était parfait, un grand merci pour votre soutien !